Exporters will get new opportunities without traveling abroad during the congress Ukrainian Food 2016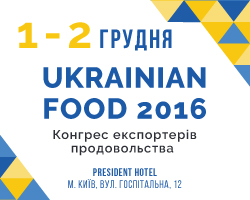 ---
---
Ukrainian food producers will get new opportunities for export without going abroad taking part in the food exports congress Ukrainian Food 2016, which will be held in Kyiv on December 1-2 in President Hotel.
The event will be the most practical thanks to regional areas of Asia, North Africa, the Middle East, the European Union and North America, where the participants will meet representatives of importers operating in these regions, as well as the consultants of foreign trade and representatives of economic departments of foreign embassies.
The congress participants will discuss issues of supervisory authorities role in new markets opening, prospects of Ukrainian logistics in terms of new export priorities, practical cases of foreign markets entry and their application to particular case of their own companies.
Invited to participate
• Minister of Agrarian Policy and Food Security Taras Kytovyi
• Deputy Minister of Agrarian Policy and Food Security Olga Trofimtseva
• Deputy Minister of Economic Development and Trade - Trade Representative of Ukraine Natalia Mykolska
• Head of Economic Cooperation Department, Ministry of Foreign Affairs of Ukraine Oleksandr Danyleyko
• Head of State Service on Food Safety and Consumer Protection Volodymyr Lapa.
• National consultants of Food and Agriculture Organization (FAO) Vitaly Bashynsky, Andriy Pankratov and Volodymyr Gontar
• Adviser on food law, World Bank Group Kateryna Onul
Detailed program and registration for participation at the link http://ukrainian-food.com/2016/ukr
Accreditation for media at press@ukrainian-food.org or call +38 067 332 5475
---
---