Leaders of Ukraine's food industry will participate in the congress Ukrainian Food 2016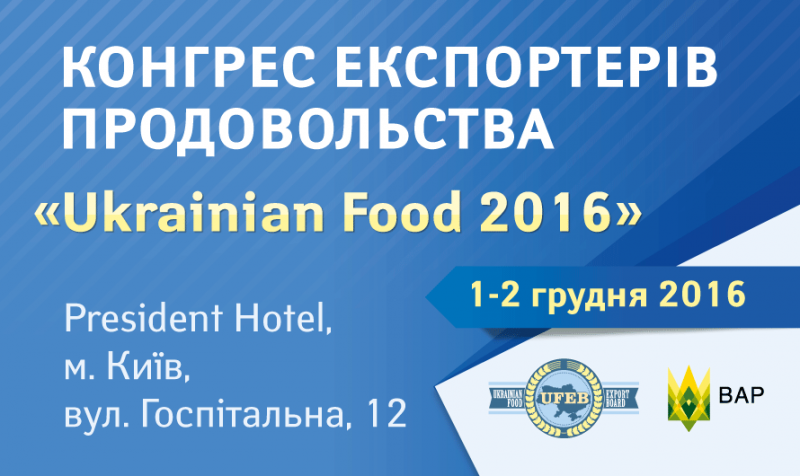 ---
---
Leaders of Ukraine's food industry will participate in the food exporters congress Ukrainian Food 2016, which will be held December 1-2 in Kiev in President Hotel. The congress will be attended by representatives of the most influential Ukrainian food companies, that sell their products even in the most remote corners of the globe.
In particular,
• Milkiland Group, one of the first Ukrainian companies that entered Chinese dairy market;
• Milk Alliance Group, which have made impossible and now successfully export raw materials for baby food processing for Chinese market;
• Ukrainian largest exporter of cognac House of vintage cognacs "Tavria", that managed to prove to consumers of the United States, Canada, Spain, Germany, Israel, Nigeria, China, Australia and many other countries, that the quality of Ukrainian products is worthy of international recognition;
• Leader of Ukrainian market of ice cream and frozen food "Rud", that supplies its ice cream to Israel, Moldova, Georgia, the EU and even to the US and the United Arab Emirates;
• Leader of meat industry of Ukraine "APK-Invest", that export its products to China and Georgia;
• "Svarog West Group", that began to supply beef to Georgia this year, proving that Ukraine can export not only grain but also meat of the highest quality;
• JNL company, which has been confirming the high quality of Ukrainian grains on the domestic market and abroad for 24 years.
Be a part of the most successful exporters in the biggest event of the year - food exporters congress Ukrainian Food 2016! Program and registration link http://ukrainian-food.com/2016/ukr
---
---