The subdivision of VSC of the Southern Region works tirelessly to provide regular highly professional practical veterinary services to cattle on the farms of the Association of Milk Producers of Ukraine to ensure health, high reproduction, maximum animal productivity and increase economic efficiency and competitiveness of the dairy cattle breeding.
In 2017 (to date) began his work service doctor - Alexander Frolov, who provides veterinary attendance and helps solve problems on farms.The first farms that joined our support were:
"Torgoviy Dim " Dolinskoe" is one of the first support farms in the region, we have been cooperating for about 5 years. In a weekly rhythm, we conduct ultrasound diagnostics of cows, which allows us to keep reproduction rates at the appropriate level. If there are any changes, we take measures to solve the problem. We started working with sexually transmitted sperm; we pay special attention to the state of heifers, if the norm is allowed for insemination.
Another example is LLC "Svitanok" in the Kherson region, where Serhiy Maksymenko is the director. Thanks to the cooperation with VSC, the fertility rate was improved from 15% to 50%.
At LLC "Dnipro" of the Kherson region, it was possible to improve a situation on reproduction, increase number of calving, and accordingly reduce the average lactation day to 180, which gives an increase in cow productivity.
LLC "Svitanok", Kherson region, Natalia Miroshnichenko is the head veterinarian: "We have been cooperating since July 2018 and are very glad that we can work with such specialists. Thanks to cooperation with the VSC, we have improved the situation in all areas of the farm, especially in reproduction. Thanks to the qualified help and control of Alexander Frolov, who is a veterinarian of the farm, we improved the quality of milk from first to extra grade, which in turn made it possible to get an additional profit of 430 UAH per ton of milk."
LLC "Dnipro", Kherson region, Serhiy Fesenko is the farm manager: "We are very pleased with the cooperation, Oleksandr Frolov is a good specialist, always ready to help and provide recommendations. We mainly work on reproduction, over the years of cooperation we have significant improvements in performance.I advise farms to join the VSC and improve their performance."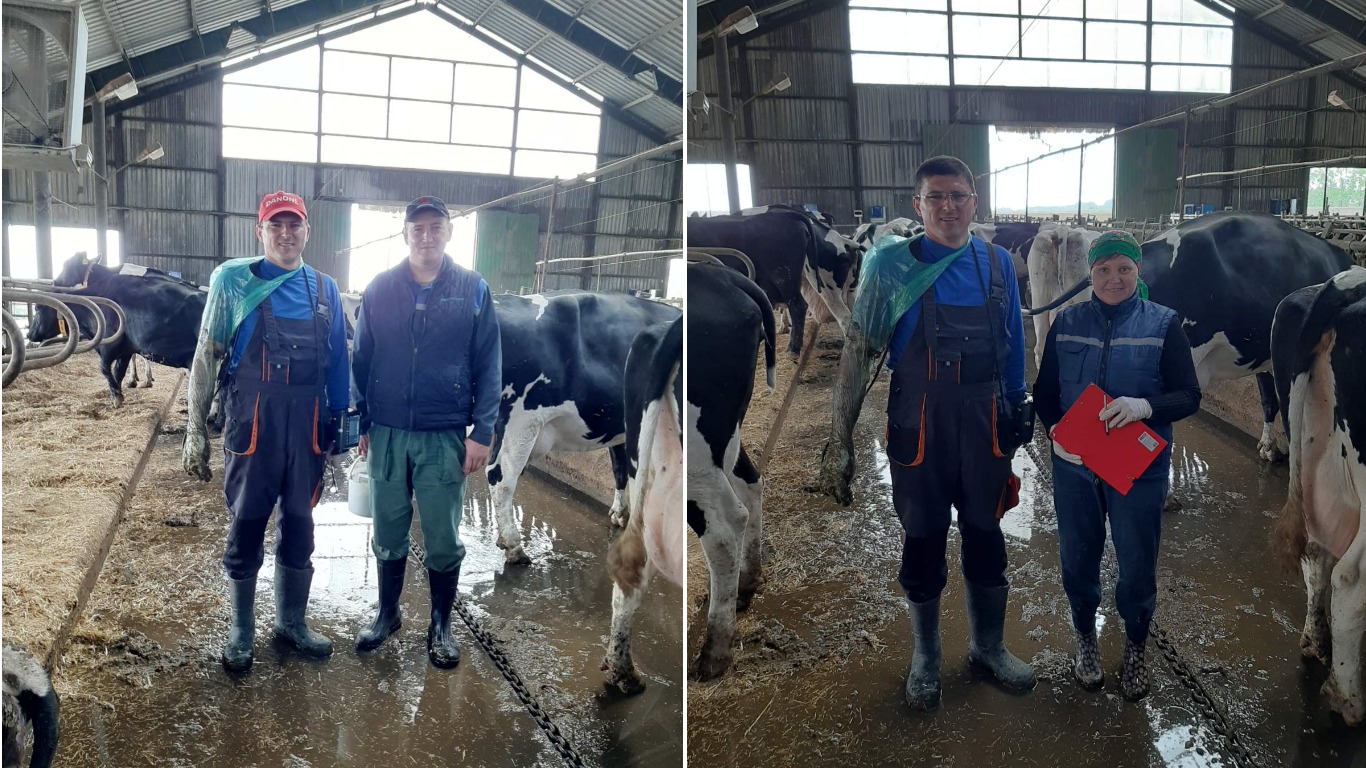 Service doctor of VSC of the southern region and farm specialists of "Torgoviy Dim " Dolinskoe"