In April 2019, started working the new divisions of the Veterinary Service Center - VSC-Donetsk and VSC-Luhansk - in eastern Ukraine. Currently, the Eastern VSC works with a dairy herd of about 7,000 cows: Donetsk, Luhansk, Kharkiv, Zaporizhia, Dnipropetrovsk, and Poltava regions.
The service veterinarians of the unit are Vitaliy Sydorenko and Dmytro Sopynsky.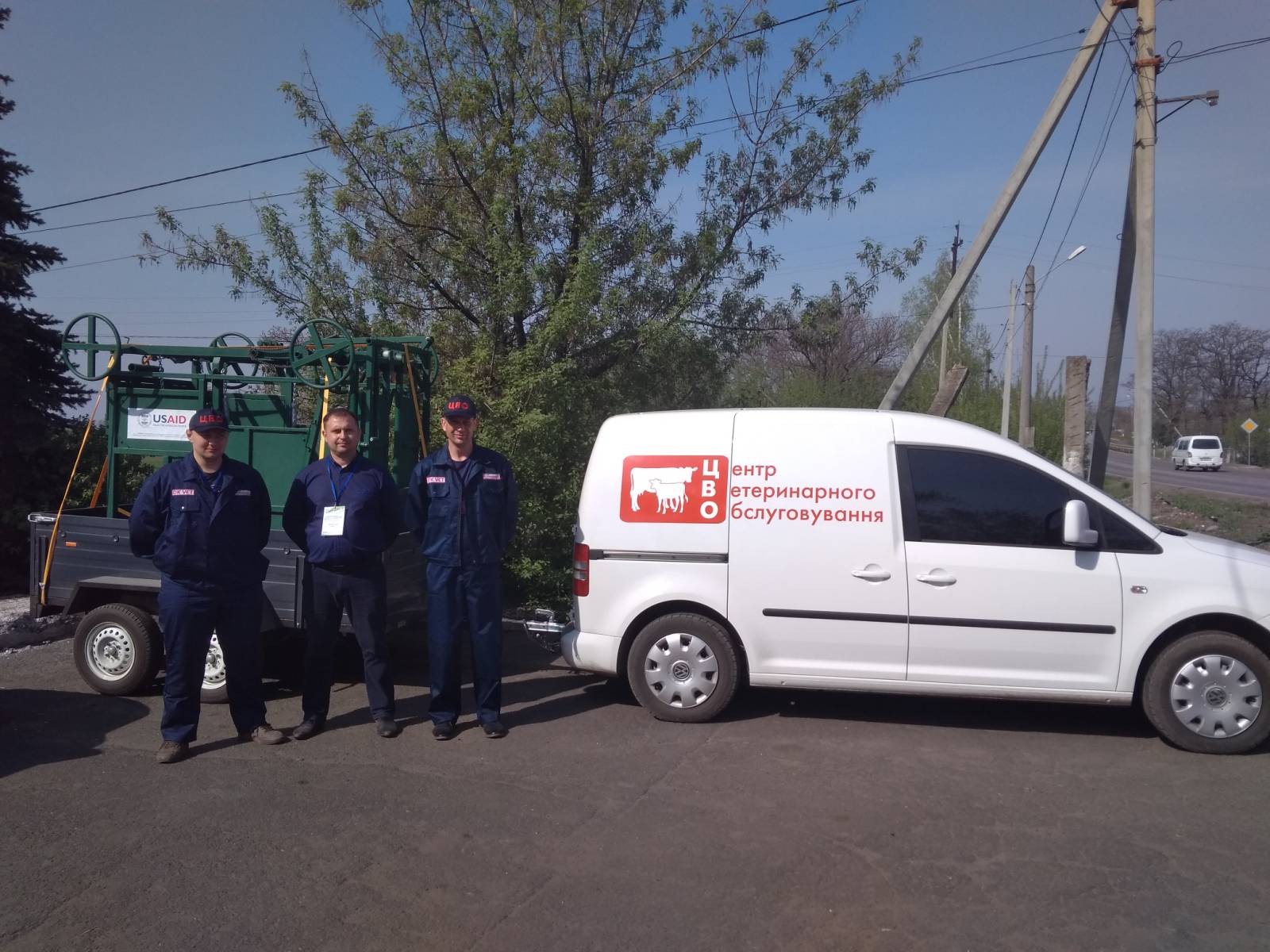 The cooperation of the Association of Milk Producers and the USAID project "Support to Agricultural and Rural Development" had provided an opportunity for their activities. Last year was decided on creating the VSC in the eastern region because they mostly suffered from the deficiency of quality veterinary services and qualified specialists. LLS AF "Slobozhanska" and LLC AF "Svitanok" became the support farms in the new subdivisions of veterinary service centers is concentrated there.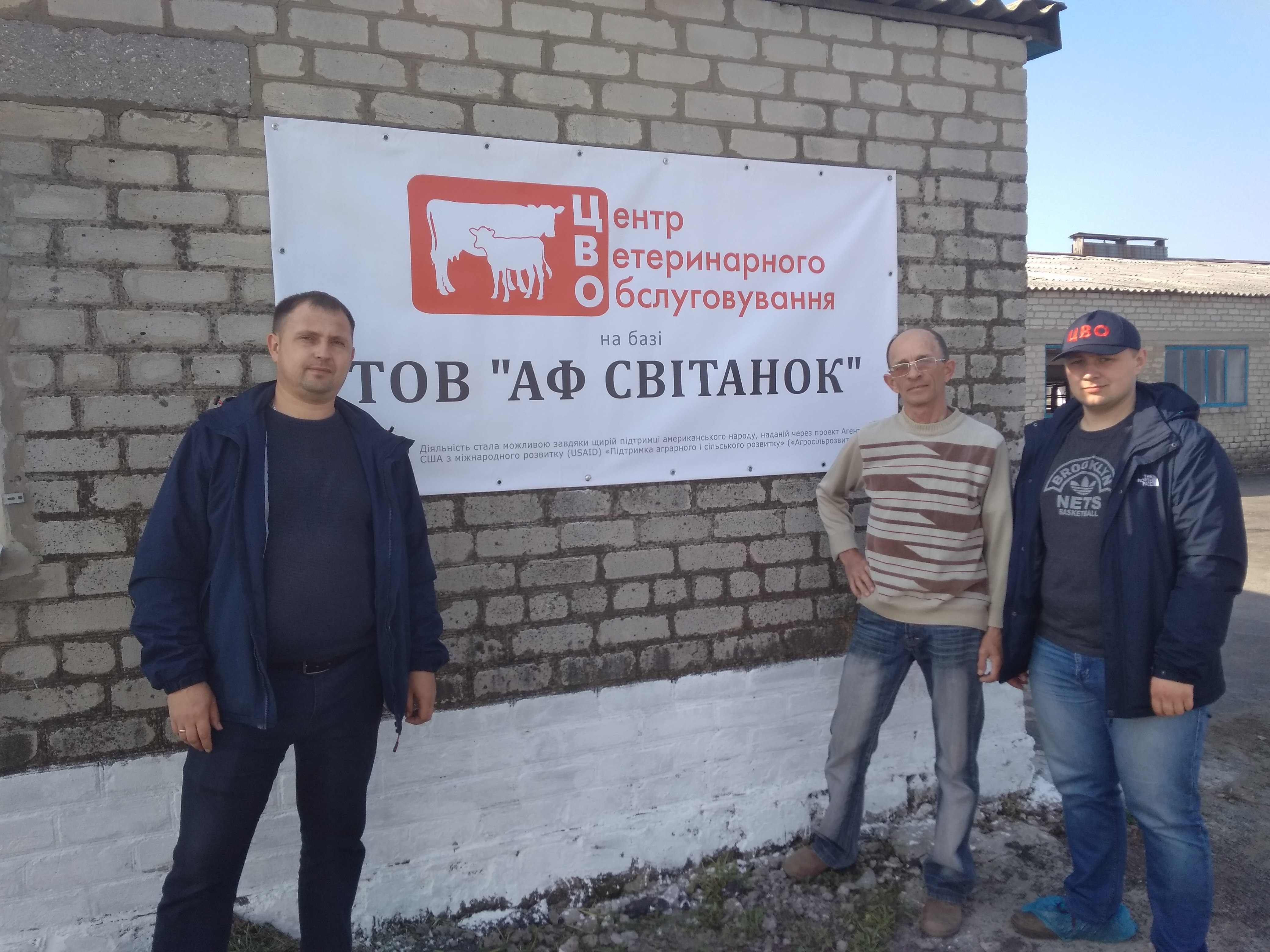 Project manager of the Veterinary services center Sergey Taranyuk, head veterinarian of LLC "Agrofirma "Svitanok" Nikolay Grigorievich and service doctor of the VSC Luhansk Sidorenko Vitaly
At AE "Kashtan" for a year of cooperation managed we improve the quality of milk, the main direction of work is ultrasound diagnostics, ranging from confirming the response of pregnancy to detecting gynecological diseases.
At FG "Kiseli" ,Kharkiv region, during the work with the servicing veterinarian Vitaly Sidorenko, achieved an improvement in the rates of fertilization of heifers up to 80-100%, thanks to the introduction of protocols for detecting the optimal time for insemination, provision of regular veterinarian consultations on treatment.
LLC "Rodina Trade", Dnepropetrovsk region, where the director is Alexander Viktorovich Kuzmenko began to cooperate - since April 2019. During this period, the fertilization of cows increased to 45%, which reduces the cost of using sperm doses, hormones, and saves employees time. Also, the specialists managed to increase the number of cows pregnancy in the herd by 6%. The service doctor finds a qualified approach to each farm and makes every effort to improve the results and achieve the set goals.
At FG "Krot" - the main direction of work on this farm is ultrasound diagnostics to confirm pregnancy and identify sick animals, also conduct tests and prescriptions for treatment, to improve exponents. Recently, an artificial insemination specialist has appeared on the farm, so training and introduction of synchronization schemes are being carried out.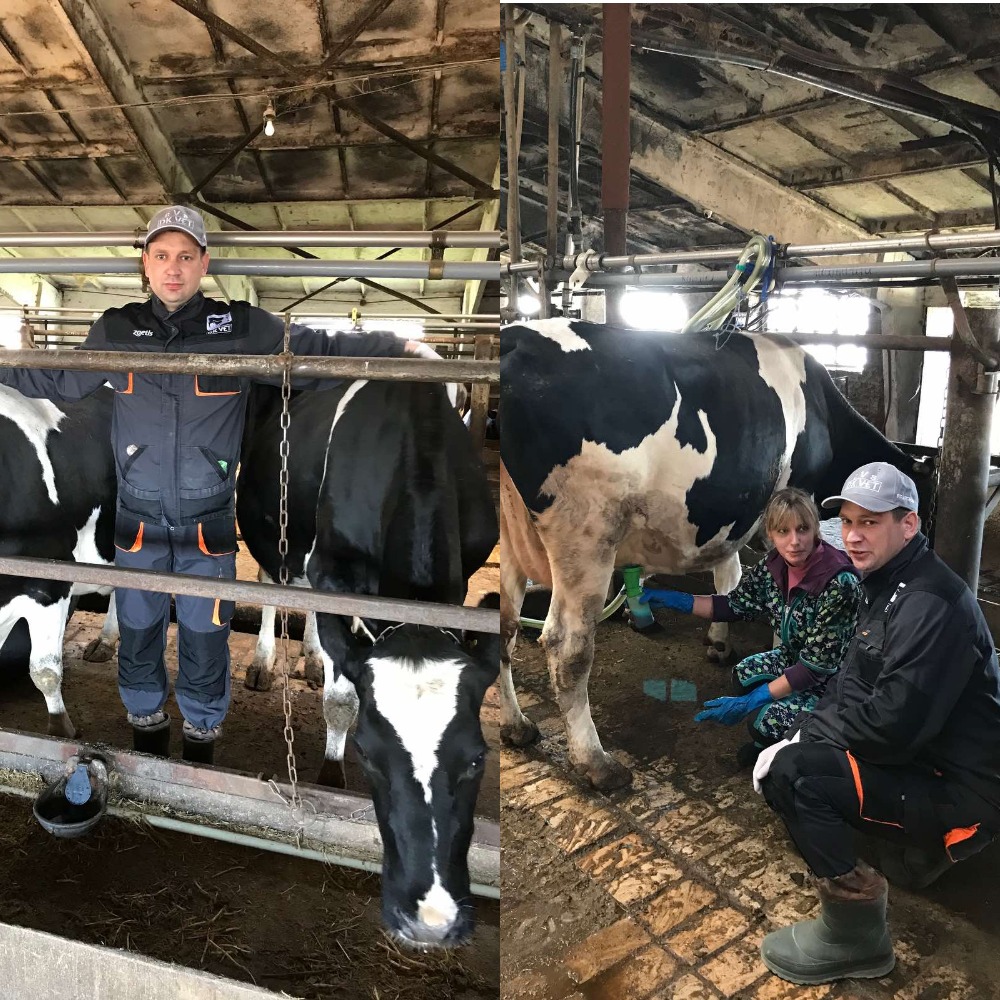 LLC "Agrofirma" Slobozhanska " thanks to the timely assistance of a specialist from the center of veterinary services, we prevented the spread of leptospirosis in the farm. Work is underway on ultrasound diagnostics and synchronization schemes are being introduced. A problem with mycotoxins was discovered in time, which was further confirmed by laboratory tests and effective recommendations were provided.​​​​​​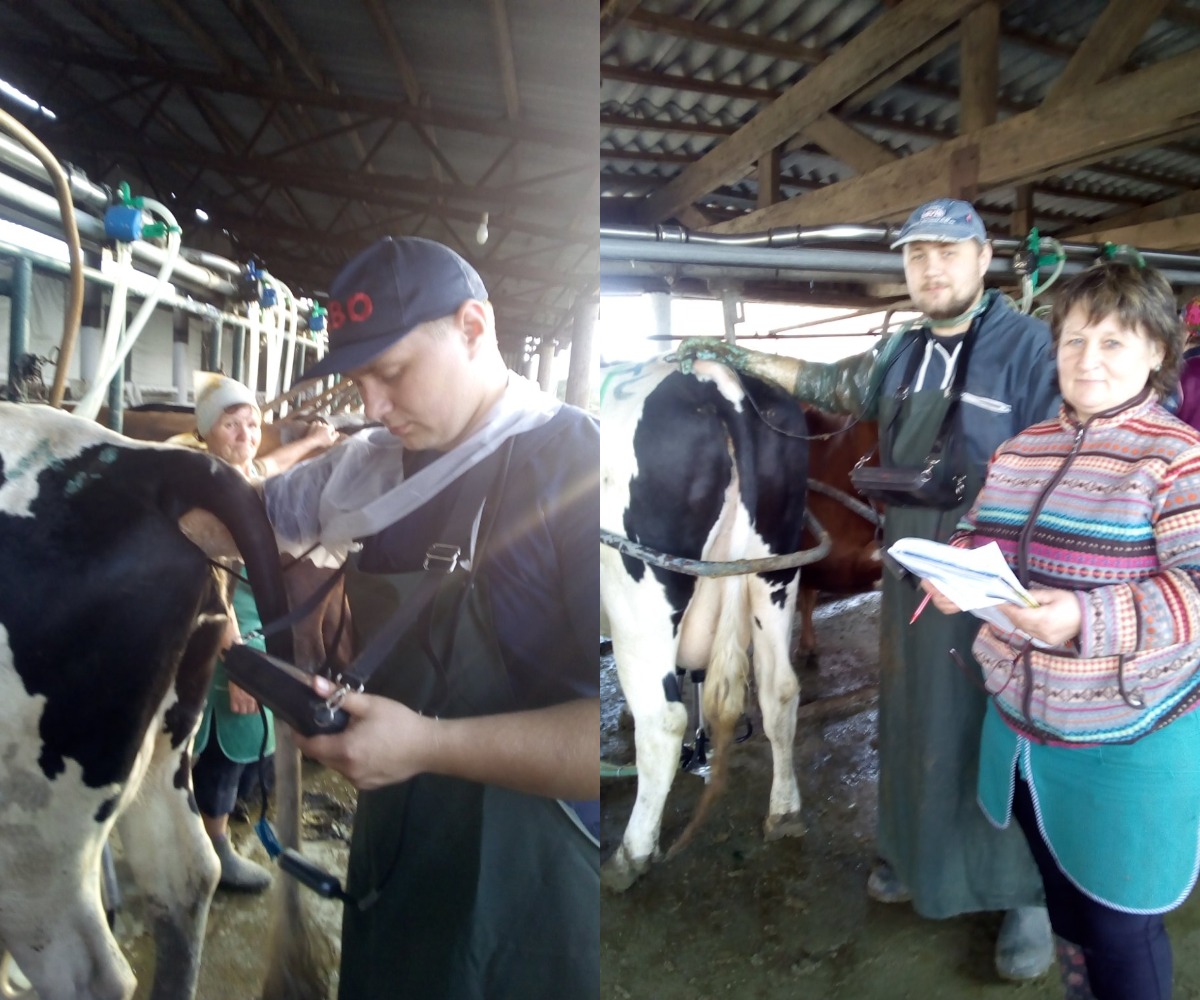 Service veterinary doctor of the VSC Lugansk, Vitaly Sidorenko, and artificial insemination technician Galina from LLC "Agrofirma" Slobozhanska"
LLC "Rodina Trade", Dnepropetrovsk region, the director Oleksandr Viktorovich Kuzmenko: «Thanks to monitoring and consulting, we work without prejudice to ourselves. I lost 20 years of development due to improper maintenance of the farm, so I think that VSC is the best tool for today to increasing the efficiency of the farm. Local veterinarians have not enough knowledge, and farmers are afraid to take risks and pay contributions, but from my own experience, I want to say that in our time you can't work without the help of qualified specialists. I am grateful to Valery Lototsky and service veterinary doctor Dmitry Sopinsky for cooperation, improving the pointer of the economy, and constant development".
The private enterprise FG "Kiseli", Kharkiv region, head veterinarian doctor Shovkova Svetlana Viktorovna: "In my opinion, it is good that there is a VS center with highly qualified specialists, to whom you can turn for advice or help. Service doctor Vitaly Sidorenko - a fan of their work. In the Veterinary Services Center, you will receive assistance from specialists, high-quality ultrasound diagnostics, effective work with health problems of cattle, and much more".
The privat enterprise LLC «Mayak» , Dnipropetrovsk region, the director Anatoly Grigorovich Sergienko: «We cooperate with the Center of veterinary service about two years. During the period of cooperation, we managed to improve fertility up to 60%, thanks to high-quality ultrasound diagnostics, effective work with newborns, and the recommendations of a service doctor. Also, changing the frequency and schedule of milking, increased milk yield by 20%. Service doctor Dmytro Sopynsky is a good specialist, we are pleased to work with him. I advise farms to join, as qualified help and support of specialists is an important factor for the development of the farm economy".
LLC AF "Slobozhanska", Lugansk region, head veterinarian doctor Vasilchenko Alexandra Viktorovna: "We have been cooperating with VSC for about a year, and I am glad to the cooperation. Our veterinary is Vitaly Sidorenko, a young, competent doctor, is always ready to help practically and provides consultations by phone. During the cooperation, we were able to improve reproduction rates, thanks to the diagnosis of pregnancy and checking the animals after calving, but we don't stop there, there is always room to grow. I recommend everyone who wants to take the economy to a new level and achieve more join to VSC ".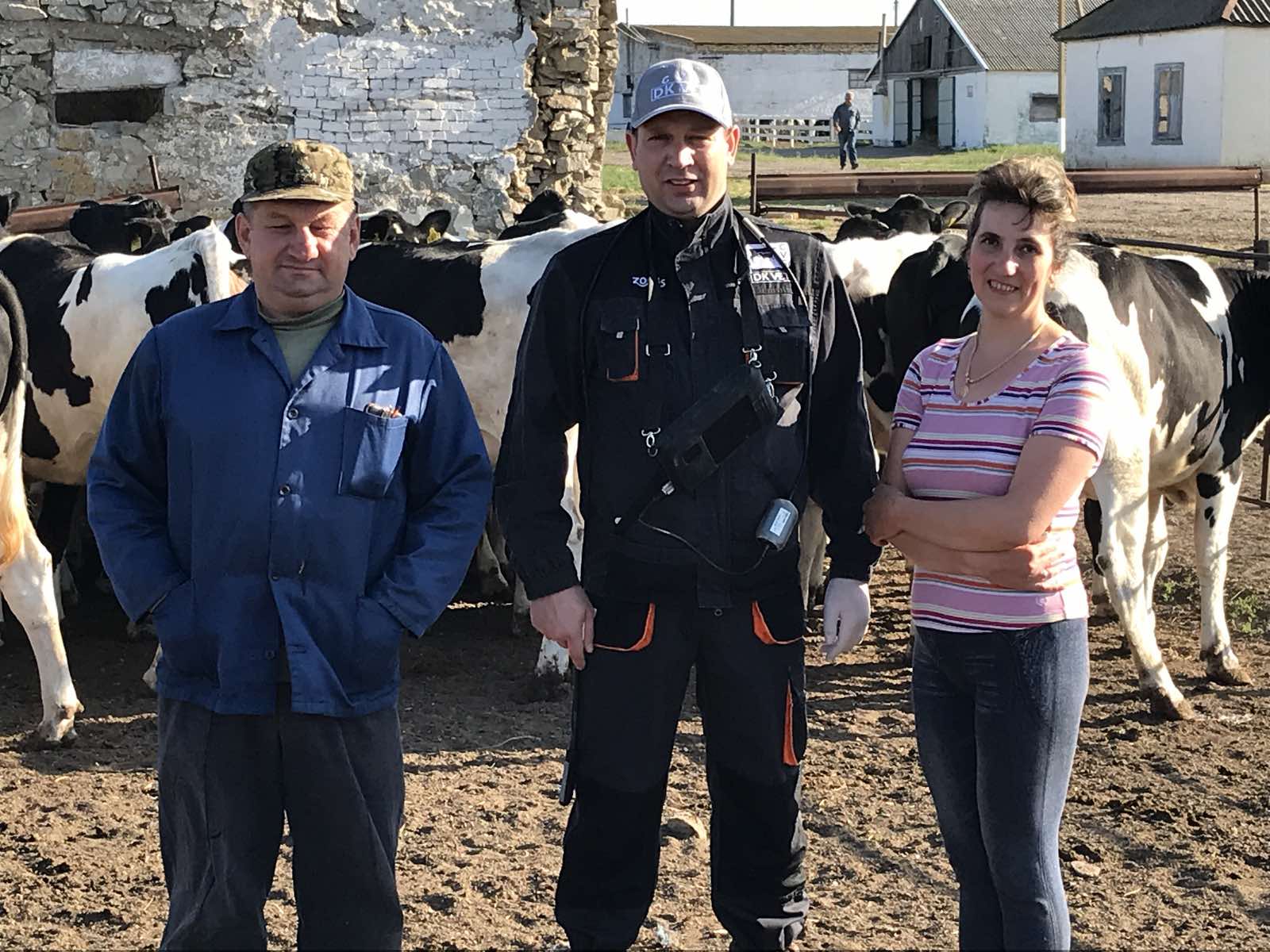 Service veterinary doctor of the VSC Donetsk, Dmitry Sopinsky, and representatives of the Rodina Trade LLC farm: veterinarian Krivoshey Vitaly Vlodimerovich and artificial insemination technician Borsuk Galina Viktorovna